Replacing a Pump Stuffing Box
Detailed instructions on how to install a pump stuffing box.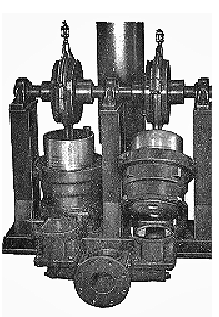 a) Rotate shaft until plunger is at bottom of stroke.
b) Tighten packing gland bolts.
c) Remove four bolts holding stuffing box to pump body.
d) Rotate shaft to lift plunger and stuffing box free of pump body.
e) Swing plunger and stuffing box out to clear pump body. Tie connecting rod in this position (or brace it so that it does not swing back).
f) Loosen gland nuts.
g) Slide stuffing box and gland off plunger.
h) Pack new stuffing box.
i) Place gland and stuffing box on plunger – slide into position.
j) Tighten gland nuts to hold stuffing box on plunger.
k) Put "O" ring in groove in bottom flange of the stuffing box.
l) Swing stuffing box and plunger into position over pump body.
m) Rotate shaft to bottom position.
n) Loosen gland bolts.
o) Bolt stuffing box to pump body.
p) Adjust gland bolts.